Berlin Brats – Reviews of the Trash Rock Epic "Believe It Or Rot"
Berlin Brats – Believe It Or Rot: (1973-1976)
Order The Trash Rock Epic "Believe It Or Rot" HERE
(Ratchet Blade)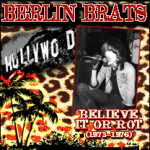 Ever since their appearance (along with The Dils!) in the Roxy Theater "Battle of the Bands" scene in Cheech & Chong's 1978 first movie Up in Smoke (a bored audience pelts them with food, before the comics' "Alice Bowie" steals the prize playing the hilarious "Earache My Eye"), fans have wondered about L.A. proto-punks Berlin Brats. Sadly, the group had already split, leaving just one incredible 7" single, included here: the full song from the film,"(I'm) Psychotic" (like a cousin of The Saints' 1975 single, "(I'm) Stranded) b/w "Tropically Hot"— known from the 1978 Rhino compilation, Saturday Night Pogo. 33 years later, this 13-song retrospective finally expands the canon. Unlike contemporary CBGB bands, the Brats were profoundly steeped in The New York Dolls, Raw Power Iggy & the Stooges, and primal '60s Rolling Stones (which you'd know, even if they didn't cover "Surprise, Surprise" and Stones' inspiration Chuck Berry). Singer Rick Wilder is a fantastic, saucy cross between Iggy Pop, Mick Jagger, and The Animals' Eric Burdon "(It's My Life" is also covered), and the guitars have all the post-blues, pre-punk greatness of James Williamson with Johnny Thunders' leads; seven studio tracks sound amazingly like Williamson/Pop's 1975 Kill City recordings, unreleased then, while the six 1976 live tracks are Metallic "KO-esque. With only six original songs (five studio), Believe feels incomplete, but we'll take it. Wilder and drummer Rick Sherman would form The Mau Maus and play the exploding Weirdos/ Screamers/ Germs/ Plugz/Dils/X Hollywood punk scene. But Believe is a document of an critical bridge in the bad years—a rebellious, hot, heavy, dirty rock 'n' roll band when that was as scarce on Sunset Blvd. as snow. – BIG TAKEOVER #68
The Berlin Brats, for those not in the know, were a notorious L.A. glam/proto-punk band fronted by Mr. Rick Wilder, who went on to greater infamy as the frontman for equally decadence-drenched punkers the Mau Maus. Ever watch the "Battle of the Bands" segment of the Cheech and Chong flick Up in Smoke? If so, you've seen the Berlin Brats. Here, in all their Stones/Dolls-soaked glory are thirteen tracks culled from demo sessions, live tapes and vinyl releases, plus a couple of bonus tracks that sound like sessions outtakes. Some of the tunes, like "Tropically Hot", "Psychotic" and "House of Pleasure", joined Rick in the transition to the Mau Maus, but I'd venture to say the bulk of the material here has never been offically released anywhere else, or at least not so in the last 3 decades. When you're talking about tapes that are, best case scenario, at least thirty-four years old, you gotta expect some rough sailing on occasion, but, for the most part, things are quite clear, coherent, and worthy of loud stereo rockin'. More importantly, another linchpin in L.A.'s underground history gets some propers, though I gotta say this release is woefully skint on accompanying text/photos to give the average listener/purchaser some context and history on the band*. Still, this clearly demonstrates that few did that sleazy rock sound better than these guys. – Jimmy Alvarado, Razorcake #61
*Note: The new cd pressing has more photos and a full bio on the Berlin Brats!
Berlin Brats – Believe It Or Rot: (1973-1976)
(Ratchet Blade)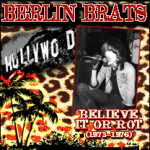 The Berlin Brats were a band of skinny Hollywood delinquents united by a love of trash rock, glam, The NY Dolls and The Stooges at a time when fans of those bands were few and far between. Not to be confused with their similarly named contemporaries The Hollywood Brats, these Brats released just one single during their lifetime, featuring the jaw dropping "(I'm) Psychotic" and "Tropically Hot". Two songs is not much to build a reputation on, but they're at least strong enough to make you wonder just how far these guys could have gone if they were able to record a full length album in their prime. In absence of a good studio record Believe It Or Rot collects whatever recordings the band could find. This includes the awesome "(I'm) Psychotic"/"Tropically Hot" single, along with eleven other demos, rehearsals and live tracks. Given that these songs are largely sourced from rare vinyl and bootleg recordings, the sound quality is rough throughout. Don't let all the negatives deter you though – you need this, if just to hear "(I'm) Psychotic" and "Tropically Hot", two of the earliest blasts of what would eventually become the LA punk rock scene.
DAVID MANSDORF
LOSING TODAY
BERLIN BRATS : Believe It Or Rot (CD & LP)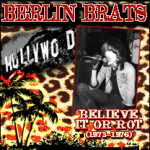 The most neurotic DJ of his generation, but probably also the most visionary of them, and one of the most influential, Rodney Bingenheimer, of KROQ, once said about the Berlin Brats that the band was "the first West Coast punk band ever". Back in the days we can say that it was a little bit overstated, but, in fact, this compilation shows us the image of a bunch of disrespectful wankers ready to destroy everything they could see in their way. But the world "punk" can be used for the Berlin Brats like it was used for the Stooges, MC5 or the New York Dolls, just like a semantic distraction because it was just impossible to rank all those guys in a more appropriate way. In fact, the Berlin Brats remind us of their East Coast brothers, the New York Dolls (singer Rick Wilder showed us a kind of genuine androgyny intensified by make-up and misunderstood posture in the Mick Jagger or David Johansen manner), with this pre-punk music mixed with glam-rock, directly inspired by the late 60's early 70's Rolling Stones, probably the best period of the Stones, for lack of being "punk" (since "Satisfaction" in 1965 they were not punks anymore). During their brief career the Berlin Brats released only 1 single, with a totemic A side, "(I'm) Psychotic", and an orgasmic B side, "Tropically hot", and that's all. The band was from Hollywood, and what if Kim Fowley, not only interested by pre-pubescent Lolitas (and I surely don't blame him for that, no question), had became the Berlin Brats manager, driving them on the road opened by the New York Dolls… or the Runaways… who just appeared when the Brats disappeared? Nobody can rewrite history, so let's just have an ear for the music of the Berlin Brats, a not so conventional band of the California scene. Some years ago, Rhino also released a compilation with the Brats on it, but it wasn't so interesting. Of course the CD includes the two songs of the single, as well as the same songs as demos, with three other studio tracks, not released at the time, all Berlin Brats numbers, and to complete the track-listing (13 songs all in all) there are also half a dozen live songs, recorded in 1976 at the Cabaret, a strip club in Hollywood, including a third version of "(I'm) Psychotic", as well as covers of "It's My Life" (Animals), "Surprise, Surprise" (Rolling Stones, what a surprise !) and "Bye Bye Johnny" (Chuck Berry, unfortunately prematurely cut down). The sound is really correct, including demos and live tracks, which is a good thing, no crappy stuff here. Coming from Hollywood, the band also appeared in a Cheech & Chong movie , the crazy comic duo, "Up in Smoke", certainly not a masterpiece, but… When the Berlin Brats disbanded (in 3 years, 3 bass players and 3 guitar players can be heard on the record), Rick Wilder and drummer Rick Sherman put together the Mau-Maus, who became more famous, and were a little bit more punk as we can say (in between Wilder spent 1 year in England, and it was in 1977, so…).
Lionel – 442 eme Rue Magazine (France)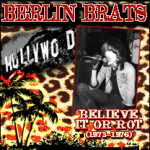 Berlin Brats – Believe It Or Rot: (1973-1976)
Finally, Hollywood's first and foremost New York Dolls worshipping glam scum (and best band to appear in a Cheech and Chong movie), The Berlin Brats, have been given their just dessert with the release of Believe It Or Rot: 1973-1976. Eleven tracks of great, glammy, trash rock n' roll recorded in what sounds like a fallout shelter. The obligatory inclusion of the "(I'm) Psychotic" 7" is found here on the A-side as well three other studio cuts, apparently discovered on a "lost" tape that one can assume had been left next to a boiler for the last three decades.
The second side of the LP features six live tracks, with slight repetition setting in during the reappearance of "(I'm) Psychotic" and "Vinyl." A good cover of the Stones' "Surprise, Surprise" and Mr. Berry's "Bye Bye Johnny" mix in with a smattering of originals last heard when Iggy was a platinum blonde – all adequate documents of the moister side of rock n' roll, circa the mid-1970's.
Across the board, the sound is tinny and thin but the punch is as raw and vicious as ever, so if the Berlin Brats come off as a poor man's Dolls, then that's because they were more desperate and hungry than their East Coast inspiration. What the BB's lacked in skill and originality they more than made up for in their attack (in an almost identical manner to the UK's Hollywood Brats – I'm beginning to see a theme here…). This is the shit, fuckers.
Rawce – Victim of Time Magazine