Mau Maus Reviews
REVIEWS OF SCORCHED EARTH POLICIES: THEN AND NOW
Order Scorched Earth Policies HERE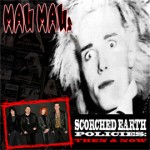 Jersey Beat Magazine Review
The Mau Maus – Scorched Earth Policies: Then & Now (ratchetbladerecords.com)
ATTENTION! ATTENTION! ATTENTION!! The missing link has been found Between The Dough Boys and The Dictators, and they're here to rock yer socks off!! Listen to the first cut, first nasty lick, first fierce, nasal vocal from the new album (produced by the Doors' Robbie Kreiger, Geza X, and the band) by the legendary 70's punk/glam/rock 'n' roll band The Mau Mau's, and you will be in Punk Rock Heaven (is there really a Rock 'N' Roll Heaven?). The guitars sound like shrapnel shards exploding from a landmine and the rhythm section is down and dirty like two whirling dervishes on a mission. Then there are the vocals: Warped, nauseating, gruff, and other-worldly. All total, just the right mixture for a goddamn, attitude-driven, snot nosed punk rock band!
I'm on my first of what willzbe several listens of The Mau Mau's (they get a gazillion points for one of the best band names ever) first album in quite a few years, and I'm just… vibing!! My typing skills are minimal (two finger typing), but listening to this amazingly cool album I'm, "typing to the beat!" Something like a bazillion words per minute, right along with the manic beat that The Mau Mau's have burned onto this party platter. Heavy stuff!
By the third go-round, I'm getting into the lyrics (the beat is STILL relentless), and they singing about being psychotic ("I'm Psychotic,") the end of the world ("Joyride,") rectums ("Rectum of Nefertiti,") and – what else – ROCK 'N' FUCKIN' ROLL ("Never Talk to Strangers," "Doomdaze!")
You might think that a band with so much road under their heels would rest on their laurels, or make an album with a couple of decent songs and the rest just mush. Well, Scorched Earth Policies: Then & Now is ALL KILLER-NO FILLER!! You will not want to stop this disc from playing 'til you squeezed all of the friggin' musical mojo outta this mother!
Where the Dictators shouldered heavy metal as a means to commercialize their punky pop, and NJ's Dough Boys gave us some of the heaviest punk riffage this side of the Ramones, The Mau Mau's inject wit, economy, intelligence, and classic pop structure into raw, powered punk rock. Not that the other bands I mentioned didn't possess the same elements, it's just that The Mau Mau's mojo is definitely their own. Period.
Bottom line, this album is a fun-filled blast of riffs and roars that rock like crazy! It's a credible continuation of what's come before, and a hard look into the future. It doesn't get any more neanderthalic and fun than this .
Big Wheel Magazine Review
Mau Maus – Scorched Earth Policies
Wow! After a number of years in hiding The Mau Mau's have resurfaced as a top LA punk act to be reckoned with. This release new for spring 2012 is retrospect of sort's disc where half the tracks come from a 1983 recording session and the newer half from just a few months ago.
What you get is an awesome collection of tracks that distinguish this band as one of LA's trashiest rock and roll bands of all time. The early recordings best of all were produced by Doors guitarist Robbie Krieger and will leave a lasting impression on even the snootiest of punks, this is the real deal and nothing less. The newer tracks are also quite amazing as well proving this band is back with energy and ready to tear up clubs with new sleazy anthems for the young and old alike. Had Johnny Thunders been from LA he likely would have played guitar and done tons of drugs with Mau Mau's, that hypothetical scenario is reason enough to pick up this disc out on Ratchet Blade Records. Do yourself a favor and get on this!
The tracks; Psychotic, Dead Or Alive, Laugh track, Rectum of Neffertitti, Sex & The Single Sniper and Puberty are worth the cost of this cd and side 2 is guaranteed not to let you down. Crank it up!

-Louie Bones-
Big Wheel Staff Journalist
Big Takeover Review
Scorched Earth Policies: Then & Now
(Ratchet Blade)
by Jack Rabid

When the liner notes claim the Mau Maus were among the most notorious bands on the 1977-1983′s incredilbe L.A. punk scene, they're right! Thanks to rave write-ups in Slash, Flipside, etc., one constantly heard about wildman Rick Wilder's post-Berlin Brats (proto-punk pioneers seen in Cheech & Chongs' Up in Smoke) group, but didn't hear them, except two cuts on 1983′s Hell Comes to Your House, Vol. 2, (equaling Berlin Brat's meager output from a 7″). Drugs were cited as the main impediment. Well, it's taken 30-40 years, but Mau Maus' bassist Scott "Chopper" Franklin's label has now released retrospective albums of both bands. The Mau Maus never entered a studio 'til after five years, and went back only twice more; likewise the Berlin Brats' Believe it or Rot (1973-1976) could only present seven studio songs. Fortunately, the Mau Maus reformed their 1981 line up recently, returned to the studio with producer ex-Deadbeats Geza X, and cut eight new versions of old numbers to go with six 1983 recordings with Doors guitarist Robby Krieger (Doors' keyboardist Ray Manzarek likewise produced X). Amazingly, the new recordings sound like the old! Their high octane punk 'n' roll is badd ass, a kicking, spitting, heavier, faster Hollywood answer to Johnny Thunders' Heartbreakers, including re-recordings of Berlin Brats' material like the Saints-esque "(I'm) Psychotic". The Joneses eventually copped their notorious raunch, but these guys had the riffs and attitude; all they needed was an album.